Flash Cube Photo Booths is a locally owned and operated photo booth rental company that serves clients in the Dayton, OH area. We offer amazing packages that are a great value for your money and with excellent assistance from our professional staff.  Since starting this business in 2012, it's been our number one goal to impress our customers by giving them a new kind of fun and entertainment through our photo booths for rent. These booths will surely add a unique experience to your party while providing your guests with wonderful memories of your big day whether it's a wedding, birthday or an important corporate celebration.
Captures Great Images Using Modern Photography Equipment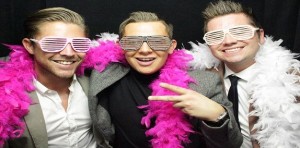 All of our photo booths can be customized according to clients' requests and their party theme. We guarantee that each booth we set out comes with high-tech professional photography equipment such as an 18 megapixel DSLR camera that can perfectly capture images and a printer that will produce great pictures, preserving the delightful moments you and your guests have experienced on the special occasion.
We also have a number of options when it comes to background, back drop colors or design, props and costumes. For business gatherings we can also add company logos while married couples can opt to have the photos engraved with special texts or date of their wedding. Moreover, we can provide a guest book with all of the photos taken that will help the party host remember those people who have joined in celebrating their party. Aside from the guest book, we will also give our clients a DVD or flash drive copies that contain copies of every picture that were taken in their rented booth.
Elegant and Sleek Photo Booths for Rent in Dayton, OH
There's no denying that renting a photo booth will bring such fun entertainment to you and your guests. With our booths for rent, you will get a modern designed booth that is simple but magnificent and a stand-out compared to the traditional photo booth rental style. Every booth that we have is of the highest quality when it comes to standard and design, plus they are exceptional and fully functional.
No matter what occasion you are celebrating, we will bring you and your guests the best photo booth experience coupled with excellent images for keepsake. Contact us today and rent one of our booths!