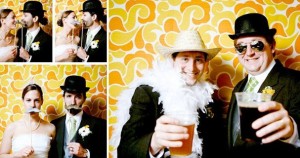 We offer top-notch, customized photo booths affordable rates for events in the Dayton, OH area. These booths are great addition for any special occasion like birthdays, weddings, proms or company celebrations. As a locally owned and operated business, we will provide our friends and neighbors photo booths that are of the best quality, as well as offer them rental packages with competitive pricing. If you think our standard rental offer doesn't work for your party requirements, you can contact us and we'll do our best to come up with a package that will be perfect for you.
Our Standard Photo Booth Package Offer
Our standard photo booth rental service starts at $695 for four hours for Saturday events. Other days of the week may have lower rates or be available for shorter periods of time. This package includes the following:
4 Hours of Photos
Set-up and breakdown of the photo booth
Unlimited use of photo booth for guests (Up to 75 photo strips per hour!)
On-site trained technician assistance
Double 2×6″ prints for every photo session
Color, Black & White or Sepia prints
Customized Photo Strip Layout for your event, ie 'Ethan and Julies's Wedding, August 5, 2017'
Digital copy of all the photos after the event
Optional free online gallery so guests can view and download their photos
Additional hours are available for $100 each. We also offer a digital copy of all photos included with each rental. For a more personalized booths, customers can ask for additional background style or design.
State-of-the-art Photo Booth Equipment
Renting one of our photo booths on your special day will definitely add a new kind of fun to you and your party guests. Each of our booths uses high-tech equipment that is sure to produce amazing pictures. For instance, we have an 18 megapixel DSLR camera which makes every shot crisp and clear. With this kind of high-end camera, it's guaranteed that all images will be captured at the finest detail. Guests are free to use the booth and capture as many photos as they wish during the entire session of your renting hours.
In addition, our booths also come with high quality printer that uses dye-sublimation technology that can produce professional quality prints in as little as 20 seconds.
Provides Fun Photo Booth Props and Costume
To make your photo booth rental more delightful, we also provide a variety of props and novelties that are perfect for whatever kind of event or party you are celebrating or according to your own choices. You can choose from our wide selection of props that will no doubt add more fun and excitement into the photo booth experience. Our props are frequently rotated but we always have mustaches, hats, silly glasses, and beaded necklaces, to name a few items. If ever you have a specific prop or theme ideas for your booth, let us know and we can usually accommodate requests. And you're always welcome to add your own props to the pile and we'll make sure you get them back.
Polite and Professional Photo Booth Attendants
To make sure our clients and their guests will fully enjoy their photo booth experience, every photo booth rental we offer comes with an on-site attendant. These attendants will also explain how to use the booth correctly, plus teach clients on how they can find their party booth images online or share their photos.
Enjoy a unique, fun part experience with our photo booths and give your party guests amazing keepsakes from celebrating your special day. Contact us now to rent one of our quality and inexpensive photo booths.