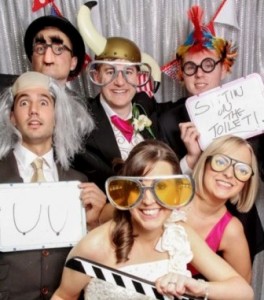 We offer affordable wedding photo booth rental packages that will be perfect for those couples wanting to add something fun on their special day. Our photo booths can be personalized to perfectly suit the wedding theme and make any couple's wedding celebration more enjoyable, especially for their guests. Renting one of our booths will surely provide your guests some unique, amazing keepsakes and will also allow them to mingle with other guests while they have fun taking their pictures. We will help newlywed couples, including their family and friends who are present on their wedding day preserve great memories through wonderful pictures taken from our photo booth.
Guaranteed High-end Photography Equipment
Each of our photo booths comes with state-of-the-art equipment like an 18 megapixel DSLR camera that always takes crisp and clear images. With this kind of high-tech camera, every tiny details of a picture will no doubt be captured. Moreover, our booths are equipped with a printer that uses dye-sublimation technology and photo paper to quickly (in about 20 seconds) deliver terrific images in vivid colors.
Personalized Wedding Photo Booth Dayton, OH
As mentioned already, clients can select a photo booth background design, style or color that works well with their wedding theme. In case you request for it, we can also offer our assistance in decorating the booth to make it appear more personalized for your special occasion. Aside from this background option, we also have fun props and costumes that your guests will surely enjoy using while taking their pictures. With regards to the photo strip headers and designs, customers can pick from a wide array of colors that we provide.
Unique Wedding Keepsakes from our Photo Booth
You and your guests will not only enjoy and be delighted taking unlimited photos in our booth but these pictures will serve as amazing keepsakes that will remind everyone how fun your wedding was. Guests will have their images printed and they can keep it as a personal remembrance or choose to have it framed.  We will also give couples an on-site scrapbook where their guests can opt to write comments next to their pictures, making it a more personalized. Aside from a scrapbook, we will as well provide clients with a DVD or flash drive that saved all of the pictures that were taken on the booth.
A Memorable and Fun Wedding Photo Booth Experience in Dayton, OH
Renting one of our photo booths on your wedding will no doubt give your guests such an enjoyable activity while they gather and save wonderful memories from your big day. The excitement and fun you and your guests will experience while capturing those funny poses will be priceless and something both of your can keep and happily recollect later on. Contact us now and schedule our top-notch photo booth on your wedding day.